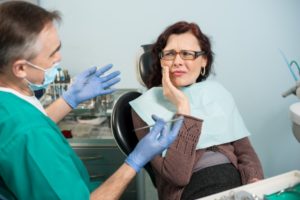 When something unexpected happens to your teeth, it can be quite alarming. You count on your pearly whites to not only make your smile look beautiful but for everyday functions like eating and speaking. However, many people put off treatment—no matter how much they need it—due to the fear of the unexpected cost. Unfortunately, ignoring dental pain can lead to more serious oral health issues. Your dentist in Pensacola is here to tell you what to know about dental emergencies while on a budget.
First Things First: What Is Considered a Dental Emergency?
If you are suffering from any abnormal symptoms, such as unusual swelling or abnormal pain, you should seek treatment as soon as possible. However, the following issues will require immediate attention from an emergency dentist:
A loose or knocked-out permanent tooth
Cracked or broken teeth
A lost filling, crown, or restoration
Painful swelling in or around the mouth
Uncontrollable bleeding in the mouth
An injured jaw
Be mindful that if a dental injury causes potentially life-threatening symptoms (such as difficulty breathing), you should call 911 or go to the nearest ER.
What if Your Dental Emergency Goes Untreated?
It can be tempting to minimize dental discomfort and put off treatment because you think it will save you money. However, this is not usually the case. Oral health issues are likely to grow progressively worse, costing you more in the long run. It's best to treat your smile in the early stages of your dental issue so you can save your smile and your bucks.
How to Make Urgent Dental Care Affordable
While dental insurance helps make dental services more affordable, it's not the only option. Many dental offices accept payment through third-party financiers, such as CareCredit. This option allows you to spread out the cost over a period of time with payments every month. Another benefit is it usually has low-to-no interest! Additionally, you can even pay for treatments that might not have been covered under a traditional insurance plan.
If you have a dental emergency, you don't have to put off getting speedy and effective treatment. By contacting your dental team, you can find out which financing options they offer so you can return to a comfortable, happy smile again!
About the Practice
Patriot Dental proudly keeps the smiles of Pensacola whole and healthy through the expertise of Dr. Keith Lisonbee and Dr. Dan Henry. With a 5-star rating on Google, their customized emergency dental care can help you with any expected oral health issue. For your ease and convenience, they offer same-day appointments as well as financing through CareCredit. To schedule an appointment, contact them through their website or by phone at (850) 477-1120.