Cosmetic Dentistry – Pensacola, FL
Show the World a Radiant Smile
A great smile can help you land a successful job interview, help set the tone for an important date, and even just help you feel more confident on a day-to-day basis. If you're unhappy with any aspect of your grin, we want to help! Dr. Lisonbee and Dr. Henry have worked with many different patients in the past, and he can create a unique treatment plan that brings out the beauty of your teeth with cosmetic dentistry in Pensacola, FL. To schedule a cosmetic consultation or ask about one of our cosmetic services, call us today.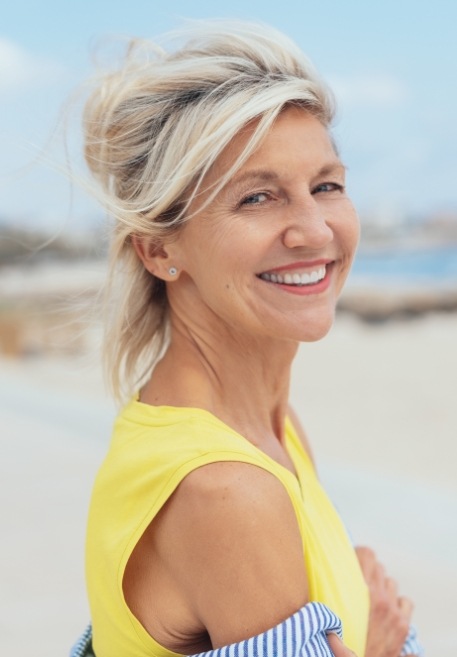 Why Choose Patriot Dental
for Cosmetic Dentistry?
Beautiful, Durable Ceramic Materials
Team That Cares About Your Individual Needs
Variety of Cosmetic Services Under One Roof
Porcelain Veneers
Veneers make it possible to make multiple changes to your teeth with just one treatment. By covering the front surface of a tooth with an ultra-thin sheet of porcelain, we can improve its size, shape, and color; furthermore, we can hide stains, chips, cracks, and a number of other flaws. It only takes two appointments to have dental veneers placed; you can get enough veneers for every tooth in your smile, but you can also get just a few if you only want to make changes to a few teeth.
KoR Teeth Whitening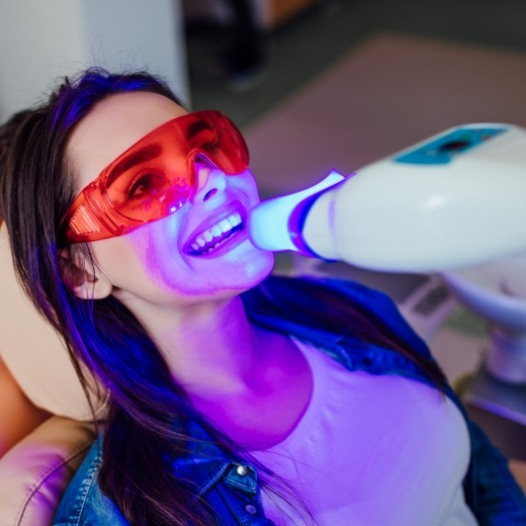 If the teeth are exposed to dark-colored beverages or richly pigmented foods, they can eventually turn yellow and dull. Such stains can't always be removed through brushing, but a professional Kor whitening procedure can take care of discoloration above and below the enamel, restoring the brightness of your grin. We can give you a whitening kit, but if you would like to see improvements right away, we highly recommend having an in-office procedure performed; it only takes about an hour to enhance your smile by several shades.
Smile Makeovers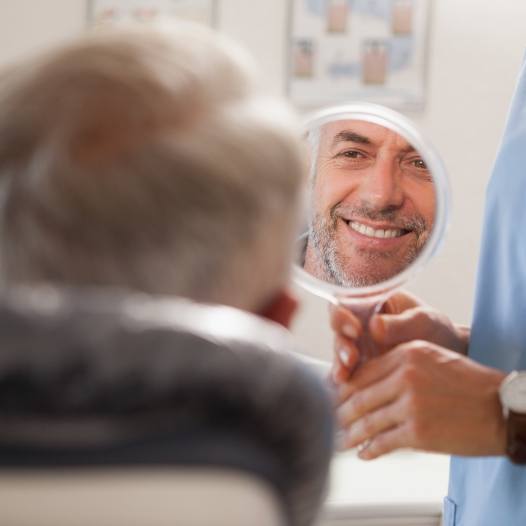 Sometimes it takes more than one step to achieve the smile of your dreams. We might find that the specific corrections that you want us to make call for veneers, bonding, metal-free crowns, whitening, and/or a number of other procedures. We will go over each and every treatment option with you and help you put together a treatment plan known as a smile makeover. At the end of the process, your smile will be so thoroughly transformed that you may not even recognize it.
Learn More About Smile Makeover
Metal-Free Dental Restorations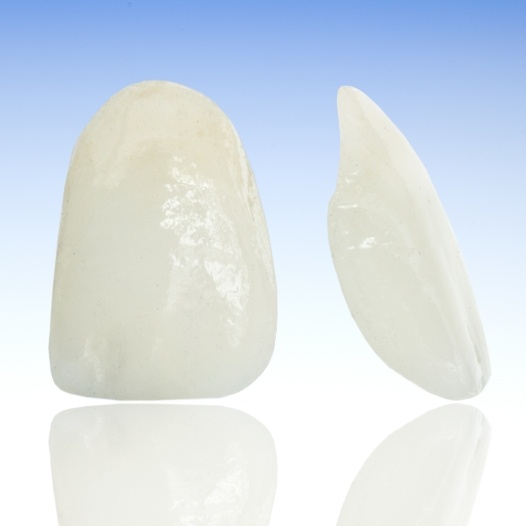 A crown is often a necessity for your oral health, but it can still be used to improve your appearance. While we do have gold crowns, we realize that many of our patients prefer restorations that don't stand out. As such, we may recommend an EMAX crown or zirconia crown for the most lifelike results. Zirconia and the ceramic material used to make EMAX crowns both mimic the way enamel reflects light, and we can change their color so that they resemble your natural teeth as closely as possible.
Cosmetic Dental Bonding
Sometimes most of your smile looks fine but there is just one minor flaw that severely bothers you. To make a quick correction without having to make extensive alterations to your teeth for veneers, you should consider cosmetic bonding to give your teeth a touch up. After preparing the surface of the enamel, we apply composite resin to the area in question. The material is carefully shaded and then hardened with a special curing light.
Understanding the Cost of Cosmetic Dentistry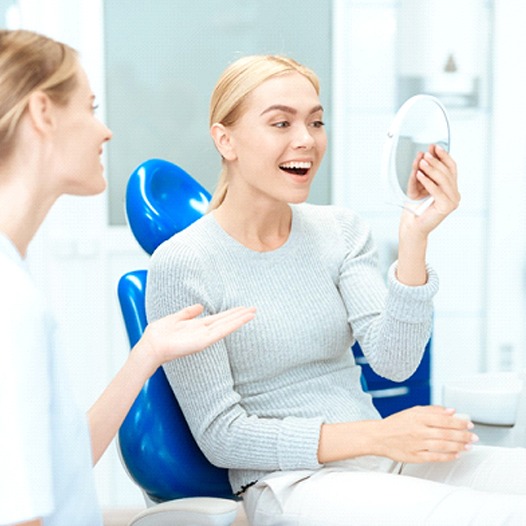 The cost of cosmetic dentistry in Pensacola is different for everyone. Once you schedule a consultation to come in and meet with our team, we can establish a clear estimate that will help you to understand how much you can expect to pay to receive your new smile. And although dental insurance is unlikely to cover the cost, there are other ways you can still receive cosmetic dental care without emptying your bank account.
Which Cosmetic Dental Service is Right for Me?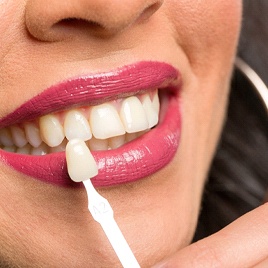 There are many different types of cosmetic dental treatments available at our office. Each has its own price point, so you can determine which option is right for you:
Porcelain Veneers: If you want to cover chips, cracks, misshapen teeth, stains, discoloration, or minor misalignment, these thin, porcelain sheaths can fit snugly over the surface of your teeth and hid your imperfections. Although, they are considered more expensive than other options.
Metal-Free Dental Restorations: Decayed and damaged teeth can be easily concealed with the help of a tooth-colored, metal-free dental restoration. Instead of having a spotlight shine on your dental work, we can use materials that blend in with your existing smile.
Cosmetic Dental Bonding: More affordable than veneers is cosmetic dental bonding. Using color-matched composite resin, we can easily shape and sculpt the resin into place onto your tooth enamel, hiding any flaws for a healthier, more beautiful look.
KoR Teeth Whitening: Enhance your smile by several shades in just one hour using our in-house KoR whitening treatment. You can also opt for our at-home whitening trays that will lend results in about two weeks!
Smile Makeovers: When multiple imperfections plague your smile, your cosmetic dentist can combine several cosmetic treatments into one plan for the perfect smile makeover.
Cosmetic Dentistry Can Be An Investment Worth Making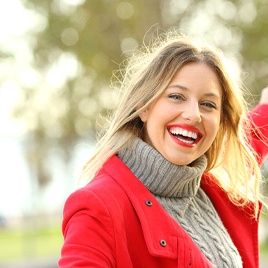 Cosmetic dentistry's main focus may be to improve your aesthetics, but you may not realize it also serves to provide another purpose – better your oral health. When teeth are brought together to close gaps, when damaged and decayed teeth are better protected, or when stains are lifted, the status of your overall oral health will improve.
When you feel good about the way you look, you'll take special care to ensure your oral hygiene routine is up to par. You'll also strive to avoid habits and foods that can be detrimental to your smile and body.
How to Make Cosmetic Dentistry Affordable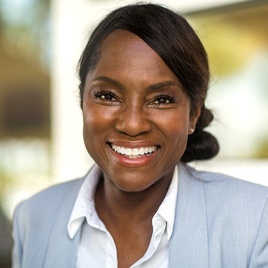 Dental insurance will not cover the cost of cosmetic dentistry. This is why most dentists, including our own, offer alternative ways for patients to pay. One of the most popular and convenient ways is by enrolling in a payment plan with CareCredit. If you'd rather avoid paying for the entire treatment upfront, you can break up the cost across several months or years and lower your monthly payment to better align with your budget.
Cosmetic Dentistry FAQs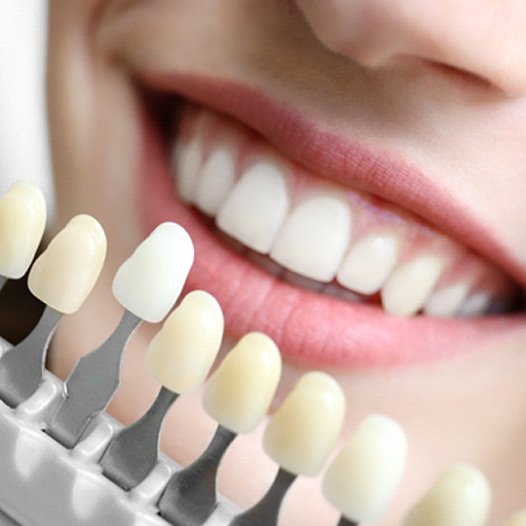 Is Cosmetic Dentistry Covered by Insurance?
Cosmetic dentistry typically falls under the realm of elective dental procedures, which means that dental insurance companies are usually not willing to pay for them. However, there are exceptions that can be made if it's found that the cosmetic procedure you're interested in also proffers some kind of health benefit.
Dental crowns, for example, can protect sensitive teeth and keep them in good condition in the long term. Invisalign straightening teeth can be incredibly helpful in protecting your oral health in the long term. In these cases, it's possible that your dental plan could cover anywhere from 50-80% of the treatment that you get.
How Do I Know If I Need Cosmetic Dentistry?
There are myriad cosmetic dental treatments that can deal with all kinds of issues. Each of treatments are safe, effective, and are possible for just about anyone whose oral health is in generally good condition. That being the case, cosmetic dentistry is great for anyone who is less than thrilled about the way that their smile looks to others.
If your teeth are discolored, damaged, or misaligned, you can give us a call and we'll talk about the options available to you.
Does Cosmetic Dentistry Hurt?
Just about every patient we see is at least a little bit concerned about the prospect of pain. Thankfully, cosmetic dentistry shouldn't stress you out very much in this regard. Many of the most common cosmetic dental treatments, like dental bonding and teeth whitening, are inherently painless.
In the case of more involved treatments, like veneers, we'll take the time to numb your mouth completely before beginning any kind of dental treatment. With all of this being the case, you can be sure that your cosmetic dental treatment will be entirely painless.
What Should I Expect at an Initial Consultation for a Smile Makeover?
When we meet you for a smile makeover consultation, we'll begin by taking a look at what your issues are and talking to you about your goals. This will help us to make sure that your oral health is in good enough condition for cosmetic dentistry to be possible, and what treatments you could need.
We'll also use this time to take impressions of your teeth, which we will use a variety of technologies to turn into a digital impression of what your smile is going to look like. And finally, we'll take the time to answer any more questions that you have about your upcoming treatments.