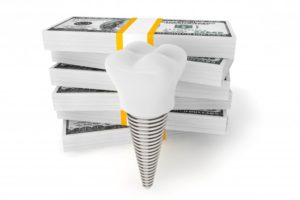 If you have missing teeth, dental implants are the most reliable, comfortable, and long-lasting solution to complete your smile. They are often considered the gold standard in tooth-replacement options! However, due to those increased benefits, dental implants are more of a financial investment than dentures or dental bridges. So, what exactly makes them worth the cost? Here are five reasons why dentists and patients alike believe that dental implants are well worth the price in the long run.
#1. You Will Save Money on Repairs & Replacements
Traditional dentures and dental bridges usually need to be replaced after about 10 years. Dentures may even need to be adjusted every year or two to keep the fit comfortable. Over time, this can end up costing you quite a bit of money and time. By contrast, dental implants are a reliable one-time investment that can easily last 30 years or more.
#2. Your Bone Health Will Improve
Unlike dentures or dental bridges, dental implants are embedded into your jawbone using a titanium post. With time, your jawbone naturally grows around the posts, which forms a bond that is as strong as your natural teeth! This stimulation prevents further deterioration that can occur with tooth loss.
#3. You'll Look Younger & Vibrant for Years to Come
The roots of your teeth activate your jawbone whenever you bite or chew. When a tooth is lost, the jawbone loses circulation, causing it to break down. Eventually, this leads to a sunken, wrinkled facial appearance. Dental implants are the only tooth replacement that encourages blood flow in the jawbone, keeping it strong and healthy and preserving your youthful facial features.
#4. Your Smile Will Be More Functionality
Unlike dentures that can slip and slide when you're speaking, eating, or smiling, dental implants are rooted firmly in your mouth. This means you can eat all of your favorite foods and speak confidently without fear of any mishaps from unexpected slippage. Implants provide peace of mind as your renewed smile feels and functions just like your natural one.
#5. You Will Achieve Priceless Confidence
Missing teeth not only affect your everyday life, but they can slowly melt away your confidence. Many people try to hide their smiles due to feeling self-conscious. Dental implants provide you with a serious self-esteem boost by allowing you to grin, talk, and chew with confidence for many years. Gone are the days of hiding your smile for photos and avoiding public speaking.
As you can see, the unique, long-term benefits of this tooth loss solution make them worth every single penny!
About the Practice
Patriot Dental proudly keeps the smiles of Pensacola whole and healthy through the expertise of Dr. Keith Lisonbee and Dr. Dan Henry. They offer a range of comprehensive dental services, including restorative procedures like dental implants. With a 5-star rating on Google, they use personalized care and advanced technology to successfully help you achieve your oral health goals. To schedule an appointment, they can be reached through their website or by phone at (850) 477-1120.