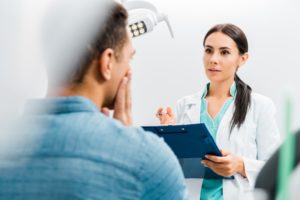 Have you ever undergone root canal therapy? If so, hopefully, you had a positive experience. Still, you may not be eager to get the treatment done a second time — especially if it is for the same tooth! Why is root canal retreatment in Pensacola sometimes necessary, and what can you expect during your appointment if you have to undergo it? Read on to find out.
Reasons for Root Canal Retreatment
The need for root canal retreatment can arise weeks, months, years, or even decades after the original procedure. When this occurs, it is usually due to one of the following reasons:
Unsuccessful Initial Treatment
In the vast majority of cases, an initial root canal treatment is successful. (Statistics on this point vary, but according to some estimates, the initial success rate is over 90 percent.) Unfortunately, though, there are some cases where a dentist accidentally leaves behind some infected tissue within the tooth.
Often, it is not due to any shortcomings on the dentist's part. It is extremely difficult to navigate the tiny spaces within a tooth, and it is virtually impossible to see in all its nooks and crannies. Therefore, some small spots of damaged tissue may get left behind. This issue is more common in molars than in front teeth.
New Damage to the Tooth
Even if an initial root canal is a resounding success, the treated tooth does not become invulnerable to new damage. If you delay getting a crown, or if an existing crown suffers damage, bacteria can attack your tooth and spark a new infection.
What to Expect During Endodontic Retreatment
Endodontic retreatment may be performed by your general dentist, but there is also the chance that you will be referred to a specialist. In either case, you can be confident that you are in good hands.
During your appointment, one of the first things your dental team will do is make you comfortable by thoroughly numbing the portion of your mouth where they will be working. Next, they will remove your crown and access your tooth's interior. They will have to remove the filling material, called gutta-percha, that was placed after your first treatment.
Then, they will remove damaged and infected tissue before they fill the tooth back in. From beginning to end, endodontic retreatment usually takes a bit longer than an initial root canal.
Most of the time, endodontic retreatment is successful. If yours is not for any reason, your dentist will talk to you about other options for managing your damaged tooth. For example, you may need to get it removed altogether.
The idea of undergoing root canal retreatment might seem a little intimidating, but you can commit to the procedure with confidence that it will benefit your oral health and reduce your risk of future problems with your smile.
About the Author
Dr. Keith Lisonbee earned his dental doctorate from the Lake Erie College of Osteopathic Medicine. He is a member of the American Dental Association and the Academy of General Dentistry. If you need root canal treatment or retreatment, Dr. Lisonbee offers same-day emergency appointments and oral conscious sedation. Schedule an appointment on his website, but if it's an emergency, call (850) 477-1120.