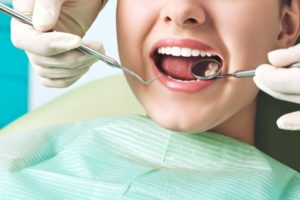 You may have experienced either a tooth that needed to be returned to health or being unhappy with the appearance of one of your teeth. Restorative dentistry to the rescue! These dental services are used to both restore the function and aesthetics of your tooth. Dental crowns and fillings are very common treatments used by dentists. But what are the differences between them? Read on to learn more!
Dental Crowns
A dental crown, or cap, is placed over a damaged or decayed tooth to restore its size, shape, and function. It's cemented into place over the entire tooth from the gum line up to its chewing surface. Crowns are made from durable materials that can withstand chewing. If the crown is placed in the back of the mouth, oftentimes gold will be used. For those restorations placed in more visible areas, your dentist can use materials to match the surrounding teeth, like zirconia. With the proper care, crowns can last anywhere between 5 to 15 years.
In summary, dental crowns:
Are often used to treat severe tooth decay or damage
Cover and strengthen the tooth
Require dental impressions
Usually takes take two dental appointments
Dental Fillings
Dental fillings are mainly used to "fill" up an area of your tooth that has been removed due to decay (a cavity). It repairs and protects your pearly white from further infection. While silver used to be the more common material for this restoration, it is now more likely to be made from composite resin, which can match your tooth's enamel. Like crowns, they are also expected to last from 5 to 15 years.
In summary, dental fillings:
Are often used to treat minor tooth decay or damage
Fill in the tooth
Do not require dental impressions
Usually only takes one dental appointment
Which Restoration is Best for You?
If the decay is caught in the early stages, then a small filling can easily and quickly restore your tooth. On the other hand, if your tooth has sustained a significant amount of damage or root canal therapy is necessary, then a dental crown would likely be the best option. After an examination and checkup, your dentist will decide which restoration would best fit your needs.
How to Care for Your Dental Crown and Filling
Although dental crowns and fillings differ in certain ways, they share one important thing in common: their lifespan relies on proper care. A regular oral health routine of brushing your teeth twice a day and flossing daily is essential. It is also a good idea to limit sugary foods, stick to a vitamin-rich diet, and minimize poor dental habits, like smoking and using your teeth as tools. Lastly, maintaining your biannual dental visits will ensure good dental health, as well as help your restoration to last as long as possible!
About the Practice
Patriot Dental proudly serves the community of Pensacola under the leadership of Dr. Keith Lisonbee and Dr. Dan Henry. With a 5-star rating on Google and a focus on personalized care, they can help you achieve a healthy, beautiful smile! They are proud to offer a range of restorative services, including dental crowns and fillings. If you'd like to schedule an appointment, they can be reached through their website or by phone at (850) 477-1120.