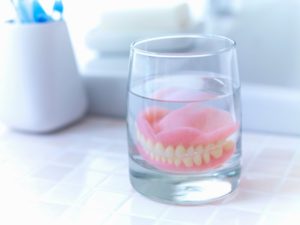 Dentures have been a wonderful tooth loss solution for many people. Whether you have a full or partial prosthetic, they return your confidence and the full functionality of a complete smile. However, to ensure your new pearly whites last as long as possible, they require certain care. One of those important oral health habits is soaking your dentures overnight. Here are four reasons why!
#1. Dentures Are Full of Pores
While dentures are made from a combination of dental materials, acrylic is the most common framework material. While your prosthetic appears completely solid to the naked eye, it's actually full of microscopic pores. Bacteria easily grow in these tiny spaces, creating entire populations in these tiny holes. It's important to not let their growth get to unhealthy levels that can lead to dental problems like gum disease. Soaking your dentures ensures the bacteria remains under control and wards off future oral health problems.
#2. Reduces the Risk of Increased Bacteria
The pores in your dentures are not the only thing that can expose your dentures to harmful bacteria. Research has shown that the population of bacteria in your mouth tends to increase as you get older. As time progresses, you can be exposed to newer populations that can leave you more susceptible to infection. In contrast, the ability to produce antibacterial saliva decreases with age, and can even be made worse by wearing dentures over an extended period of time. With these factors in mind, getting in the habit of soaking your prosthetics before you go to sleep can keep additional bacteria populations from growing.
#3. Your Gums Need to Rest Too!
Rest is essential for your body…even including your gums! Your gums are the main part of your mouth that bears the weight of your dentures all day. Unlike your jawbone, the soft tissues in your mouth are doing all the work to hold them in place. By giving your mouth a break from them throughout the night, you decrease the chances of them forming sores or becoming too fatigued for them. You not only get clean dentures in the morning but a renewed smile!
#4. Keeps Your Dentures Clean
It is always important to treat your prosthetic as you would your natural teeth by brushing them consistently and thoroughly. But brushing alone won't be able to penetrate the pores as much as soaking can. In fact, soaking them overnight removes over 99.9% of oral bacteria, keeping your mouth healthy and your dentures comfortable and odor-free.
So, next time you are tempted to skip soaking your dentures overnight, be mindful of how it benefits your oral health and keeps your prosthetic in its best shape. Your complete smile will remain healthy for years to come!
About the Practice
Patriot Dental proudly serves the community of Pensacola under the expertise of Dr. Keith Lisonbee and Dr. Dan Henry. With a 5-star rating on Google and a focus on personalized care, they can help you achieve a complete, beautiful smile! They provide a full range of prosthetic services to keep your smile healthy and comfortable, whether you have full, partial, or implant dentures. If you'd like to schedule an appointment, they can be reached through their website or by phone at (850) 477-1120.