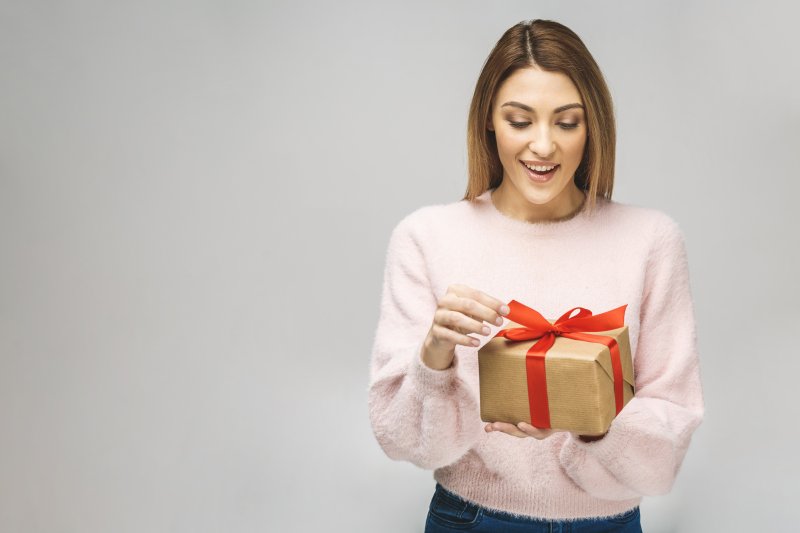 A survey conducted by OnePoll found some interesting facts about gifts. Three in five Americans have lied about how much they like and use a gift. Over a third hide undesirable ones in the closet! It is always fun to give a unique present that you know will be useful. Teeth whitening is a perfect idea…and no one will want to hide a luminous smile in the closet! Here are four reasons why it will become one of your favorite things to give!
Reason #1: It Never Goes out of Style
Trends come and go. Whether it be the latest fashion, jewelry, or gadgets, there is always something new on the market to catch our attention. But before we know it, the "hot" can turn into a "not". A beautiful smile NEVER goes out of style! It goes with any outfit and always catches attention. Teeth whitening is a wonderful gift because it will never be outdated.
Reason #2: It Can Help A Career
Being confident, connecting with others, and having a bright smile can help people to improve their careers. When your teeth are white, you feel more confident. You are more likely to reach out to others when you are comfortable with your appearance. Showing those pearly whites always creates a more welcoming disposition, both professionally and personally.
Teeth whitening can also increase job offers and pay. In a study conducted by Crest, researchers found that people with white teeth greatly increased their chances of these valuable career opportunities. Now that's a gift that can truly pay off!
Reason #3 It Improves Overall Health
Did you know just the simple ACT of smiling boosts the immune system? A strong immune system protects from illnesses and infections. Healthy people lead more active lives, which in turn benefits their health.
Smiling also triggers the release of the dopamine hormone in your body. Dopamine helps you to feel happy and improves your mood. When you feel good, you are more productive and present in your life. It also has been found to increase motivation and creativity, improve memory and learning, and help with sleep.
Reason #4 It Makes You Memorable!
It is so awesome to give presents that add value to your loved ones and remind them of how important they are in your life. Giving the gift of teeth whitening will certainly do that. Every time your family member or friend looks in the mirror and sees their luminous smile, they will remember your thoughtfulness. It truly is the gift that keeps giving!
Giving our loved ones presents that they will enjoy and use is a great way to show your appreciation for them. Teeth whitening is a gift sure to bring smiles for a long time to come!
About the Dentists
Patriot Dental proudly serves the community of Pensacola under the leadership of Dr. Keith Lisonbee and Dr. Dan Henry. They are proud to offer a range of dental services, including confidence-restoring cosmetic treatments like teeth whitening. If you'd like to know more, they can be reached through their website or by phone at (850) 477-1120.